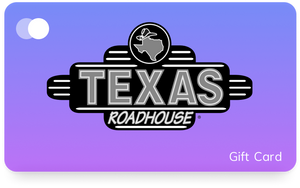 Fundraising with Texas Roadhouse!
For full access to this site, you must enter through a referral link supplied by the fundraising organization or a Texas Roadhouse location. Entering through the link will give you access to browse and purchase products being sold in the fundraiser.
If you want to participate in fundraising with Texas Roadhouse or have any questions, please contact your local Texas Roadhouse.
How to Participate
Looking to raise money for your school, sports team, or non-profit organization? Sell Texas Roadhouse gift cards and earn 10% of every gift card sold for your organization. Not only are they redeemable at over 550 locations nationwide, but our gift cards can even be customized with your group's photo or logo.
How it works:
Contact the Local Store Marketer at your favorite Texas Roadhouse
Select dates for when your fundraising group will sell gift cards
Sell Texas Roadhouse gift cards to friends, family, and others in the community – to directly benefit your organization.